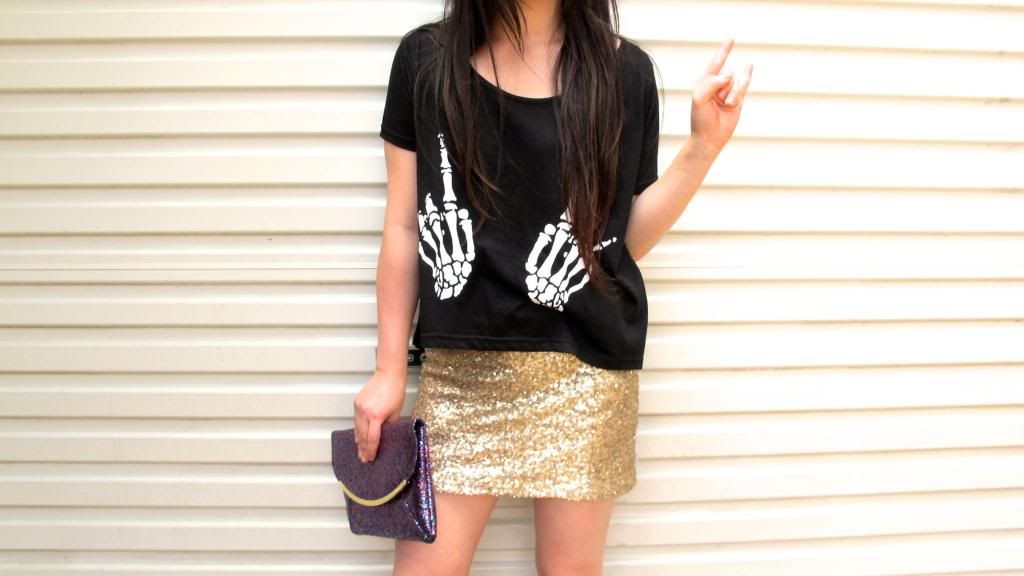 Lately I have been obssessing over mixing romantic girly pieces with something... dark and slightly grunge-ish. For example like the
previous post
, i mixed a very feminine dress with sheer detailing with some studded belt. My style has always been very feminine, with lots of vibrant colours, girly lace and florals. So compared to my style... say last year, it has slightly changed. I am liking things I usually avoid, e.g. neon and skeletons. So that's why I would classify a studded black belt "slightly grunge-ish" even though for some people it's not. And this time, I've decided to mix a t-shirt with skeleton hands poking my chest with some sequins and glitter.
Black and gold has always be such a classic colour combination, they even made it as Sam Sparro's famous song title. Gold is already a stunning colour, but pairing it with a dark background brings out the awesome-ness to the next level. The gold sequins "skirt" is actually a dress. It's a stunning dress but I don't get to wear it out a lot since it's quite formal and jazzy. So, rather than leaving it in the corner of my wardrobe and putting it to waste, i dressed it down with something very simple and casual, i.e. skeleton poking my chest t-shirt. I've never tried these combinations before, but now I am officially obsessed!
The first month of 2013 is nearing to an end. I've been stuck in Melbourne for over 6 months now. I really want to travel it's not even funny anymore. Especially after looking at photos from facebook, reading people's blogs who live in another country. I'm feeling slightly depressed that I can't travel :(
Must get out from Melbourne for at least a week. Easter holiday, I can't wait for you!
Okay, Pretty Little Liars time!
xoxo, ET