After Jeju Island, My family and I head over to a city called Busan, famous for their Haeundae beach, by KTX train. Apparently in the summer the beach is always REALLY packed. Obviously now it's winter, so it wasn't as popular. I LOVE macaroons, and it's pretty hard to find good ones in asian countries.I tried some in Indonesia and none of them were even close to what a real macaroon tastes like. Paris Croissant (a bakery) sells macaroons and i have to admit they're pretty good. Best macaroons I've tried over this summer break.
I was really addicted to this chewy candy. Once you have one, you CAN NOT STOP EATTING THEM! But i had to stop because my cough (which has been going on for months) was getting worse coz of this.
Since the weather is so cold, sometimes just unbearable... My fam and I like to stop by at a cafe and drink coffee to warm up. We found this really cute cafe called Bella Luna. Their brownies are so so so good. The tiramisu was a bit sweet for me. but their coffee was perfect. My favorite is Americano coz i'm not a big fan of milk, what yours?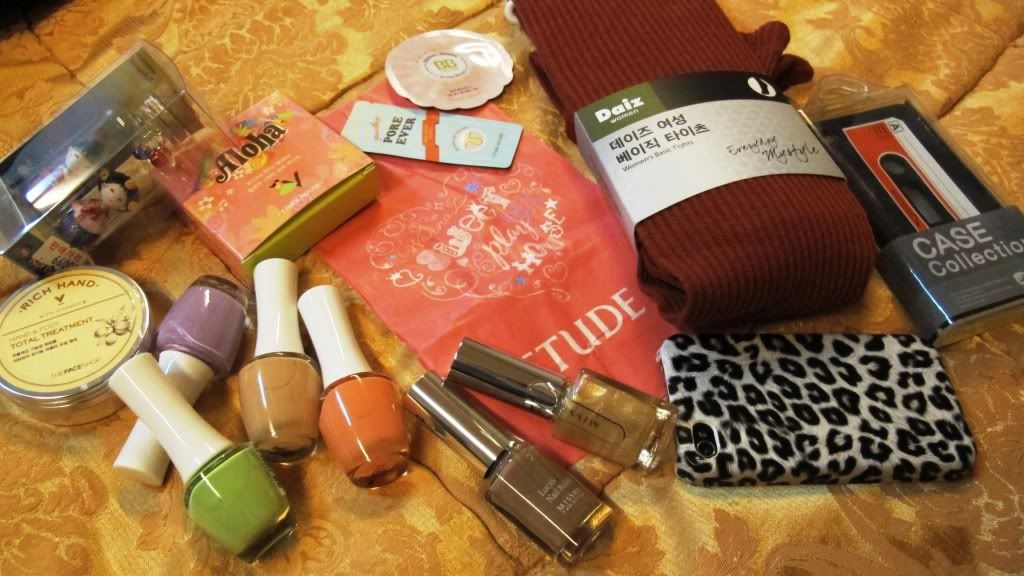 These were some of the stuff i bought after a week-ish. I had to resist from shopping before i was at Seoul so that my luggage wasn't too heavy to be carried around. Dragging a huge luggage around subway station wasn't easy at all, especially i realised that Korean subway stations don't have a lot of escalators. So i had to drag and lift my luggage up and down the stairs. Maybe that's why i didn't gain any kilos even though i ate like a monster everyday.
If you ever go to Korea, BUY KOREAN BRAND COSMETICS coz they're super duper cheap. I went crazy at The Face Shop and Etude House, especially for their nail polish. I also went crazy for stockings that i ended up with 15 pairs in total. and also 6 pairs of shoes... and many more things. Shopping was definitely the BEST :D
my favorite childhood snack that i found at Lotte Mart - Japanese "baby star" noodle snack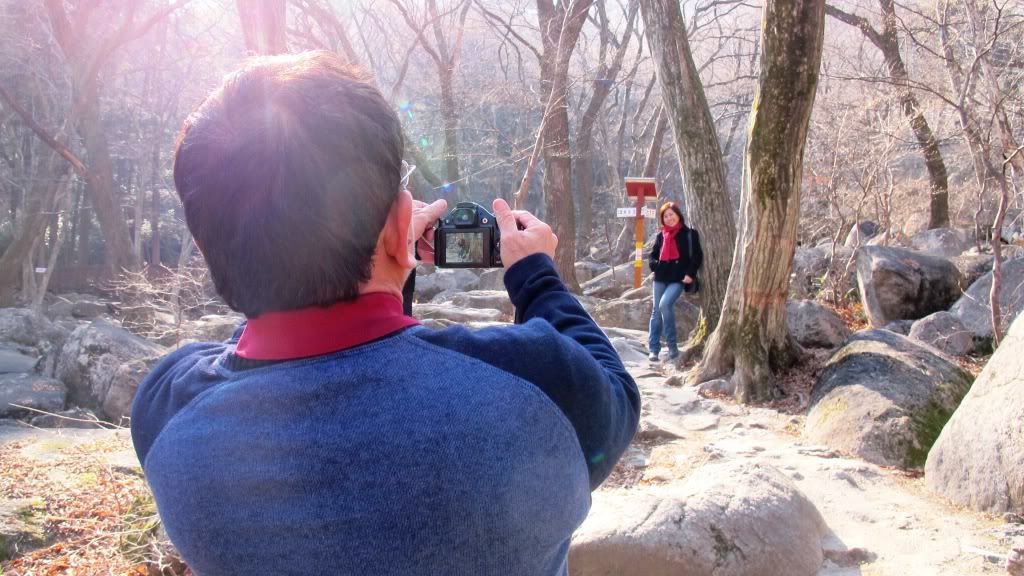 Here are my lovely parents. My dad LOVES taking photos even if his hands are frozen.It was great to spend more than 2 weeks with them 24/7. It's quite rare to get this kind of relaxation time with dad since he's usually busy with work.
that's the end of our Busan adventure. So next post will be all about Seoul :)